Islander Victory Brings Families Together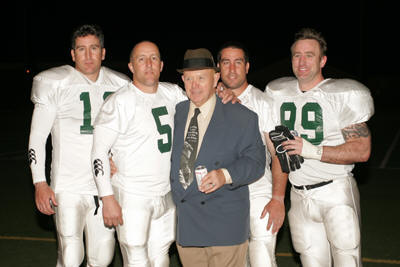 Pictured left to right: Tom Piccolotti, Jason Piccolotti, Jack Burgett, Rob Piccolotti and Danny Burgett

Ryan Buchan, Islanders Staff Writer
Mar. 22, 2008

REDWOOD CITY, Calif. – The Islanders dazzle fans again with little rehearsal defeating the Merced Mustangs 46-7. The Islanders show that you don't always need a lot of practice to be perfect. "Due to everyone's schedules, we only practice once a week, there was only a handful of guys that were able to show up on Wednesday night," Said head coach Jack Burgett.

But when it counted the Islanders did not disappoint. Running back Jarmar Julien had another stellar performance.

When there was no where to go Julien ran defenders over. When there was open space Julien danced in-between Mustang defensemen.

Julien finished the night with 148 yards on 11 carries and four touchdowns. "I still feel like I left some yards out there," said Julien. He said he wants to one day return to the NFL and that he has to always be productive so he can catch somebody's attention.

This game was more than just win or lose; it was also about family bonding. Tonight was the first time that three Piccolotti brothers stood on the gridiron at the same time during a game.
Late in the game, Tom Piccolotti came in at wide receiver, Rob Piccolotti was lined up at tight end and Jason Piccolotti was behind the center at quarterback.

"The three of us have never played together on the same field. I am 40-years-old, times running out," said Tom, the oldest brother. "This gives us an opportunity to go ahead and live that fantasy."

Tom came back to play after being off the field for 16 years. "When I am running around out there I probably feel about 30, but tomorrow I will feel about 50." he said.
The youngest Piccolotti, Jason, had a productive night at quarterback passing for 192 yards, completing 8 out of 11 passes and throwing two for touchdowns.

The Piccolotti's were not the only ones having a family reunion. Coach Burgett's son, Danny, played tonight at outside linebacker after being away from the game for 17 years.

Cornerback Troy Julian, another aging veteran, put on a show. Julian was named the defensive player of the game after making six tackles and picking off a pass.

Julian has tough standards for himself, grading his performance with a B. Julian showed his dedication to perfection when he did pushups after just missing his second interception of the night.
The Islanders committed a lot of penalties tonight, but the coach did not mind it as much as before.

"There are two types of penalties, dumb penalties and aggressive penalties," said Burgett. "Most of the penalties were aggressive tonight, which I like."

The worst thing that came out of the game is that several Islanders left the game with injuries. Jermaine Hargraves injured his knee, Kenuto Lorenzetti also injured his knee, Cisco Lutu left with a shoulder injury and Chauncey Ako had an ankle injury.

The Islanders came into the game ranked sixth out of all minor league football teams in the country. That ranking should improve after such a decisive victory over the number 48 ranked team.