Islanders Beat Lawmen 34-3
Road win brings season record to 7-0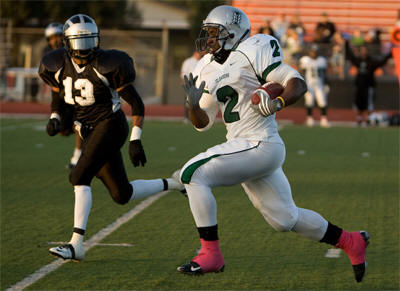 Islanders RB Jason Harrison ran wild over the Lawmen defense, rushing for 120 yards and 2 touchdowns en route to being named the Offensive Player of the Game, as the Islanders defeated the Nor-Cal Lawmen 34-3. Harrison and the rest of the Islanders were taped in pink in honor of Breast Cancer Awareness night. Photo by Bryan Tan-Pacifica islanders
Pittsburg, Ca. The undefeated Pacifica Islanders traveled to Pittsburg on Saturday where they would keep their winning streak alive by getting past the Nor Cal Lawmen.
The Islanders strength is not only in the talent they put on the field, but also in the fact that they are a strong knit family. Saturday's game was dedicated to breast cancer awareness and to Judy Burke, Scott Burke's mother, who is currently battling breast cancer. All the Islanders wore pink tape to help inspire breast cancer awareness and to show their solidarity against the disease.

It would prove to be another exemplary game for the Islander offense. Jason Piccolotti would lead the way, passing 9 for 16 with 98 yards and 1 touchdown to Donyell Crain. But it would be the Islander's running game that would be the dominant aspect of the offense. With Jarmar "the Beast" Julien out for a second straight game, running back Jason Harrison would once again step up to the plate, rushing for 120 yards and 2 touchdowns on 10 carries. Calvin Edwards would also get in with a touchdown of his own.

It was an outstanding outing for the Islander defense. They would allow only 3 points with a highlight worthy interception for a touchdown by Islander defensive back Jermaine Hargraves, who made an amazing interception catch on the Islander sideline, somehow keeping his feet inbounds. The defense would quickly turn into offensive blocking, leading Jermaine into the end zone.

Join us at Terra Nova High School next Saturday at 5:30pm where the Islanders will host the California Warriors. Pacifica's own rock band the Thrashers will perform live at halftime. The Thrashers are a rock band made up of 8 & 9 year old Pacifica musicians. The Islanders will look to go 8 and 0 and would love to see their fans out there to support their team on the final stretch of the season.