Islanders Dominate in final game of season.
Pacifica finishes regular season undefeated, beating the first year Stallions 58-6 at home.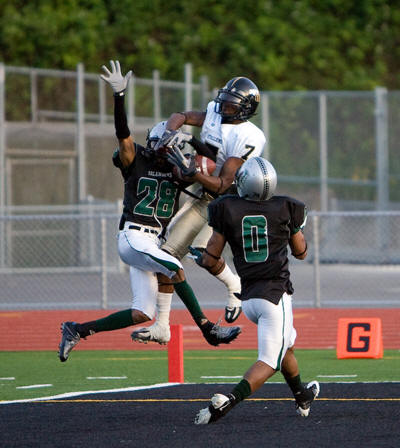 Islanders DBs Ronald Hargraves (#28) and Erik Hubbard (#0) combine on coverage, breaking up a pass. The Islanders defense held the Stallions to only six points in a 58-6 rout as the Islanders finish a perfect 10-0 regular season. Photo by Bryan Tan/Pacifica Islanders
Pacifica, Ca. - The Pacifica Islanders have finished the NCFL regular season undefeated, but now have a much higher goal in mind- the NCFL championship.

The Islanders wrapped up the regular season at home hosting the South Bay Stallions. The Stallions came looking to upset the the league leading Islanders, but the Islanders were too determined to let that possibility come to light, as they defeated the Stallions 58 to 6. Quarterback Scott Burke, who led the team to victory, would complete a three touchdown performance. Burke connected with wide outs Dre Kelley and Donyelle Crain, both on eight yard scores, but Burke's highlight play would come to receiver Nick Iano on an amazing sixty four yard reception and score.

The Islanders running game would make sure to show their impact as well, led by a powerful offensive line, dominating the entire game on both running and passing plays. The Islanders offensive line made their running backs jobs alot easier, with Robert Tago turing in a notable peformance with 4 de-cleating blocks. Running Back Jason Harrison who had 127 yards on just 12 carries, including three touchdown runs of 8, 45 and 50 yards, would lead the way for the offense. Calvin Edwards added another touchdown and 68 yards of his own. Backs Harrison and Edwards continue to play great ball and have huge momentum going into the playoffs.

The Islanders defense continues to be a squad that opposing teams do not want to line up against. They play extremely well with each other and make putting points up on the board very hard for offenses. The defensive lineman put consistent pressure on the quarterback. Lineman Michael Togafau met the quarterback frequently racking up 3 sacks and finished with 10 tackles. The secondary definitely doesn't make it easy on quarterbacks, not giving much room for passes.Vao Suesue denied a Stallion pass by intercepting it and returning it for 45 yard touchdown return.

Islander fans were able to enjoy a great half-time peformance by local band "The Thrashers" a rock band consisting of Pacifican 8 year olds. They performed 5 songs total- one being an original song. The Islanders continue to be a community oriented team, striving to support local programs as well as the people within the network of the Islander family. Ray Rayo brother of running backs coach Carlos Rayo is battling something far greater than football, cancer. This game was a fundraiser for him and his family, the Islanders were able to raise over a thousand dollars for Ray, and the Islanders thank their community for joining in and supporting this event.

The Islanders enter the playoffs as the number one seed, and will host the number four seed Norcal Lawmen May 30th at Terra Nova at 2:00pm. The Islanders are ready for this new mission, but can't do it alone and ask that the community come out and be their 12th man to cheer them on and move them closer to that NCFL ring.