Islanders Link to Community

By Horace Hinshaw Pacifica Tribune Sports Editor
Oct. 15, 2008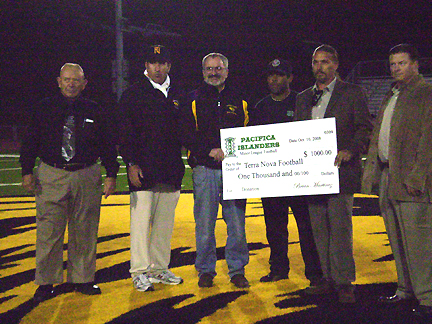 The Pacifica Islanders minor league football team made a special presentation of $1,000 check to the Terra Nova football program last Friday. Terra Nova principal Tom Minshew accepted the check from Islander's president Brian Martinez. Assisting with the presentation are (l-r) Jack Burgett, Islanders head coach, general manager Tom Piccolotti, Minshew, Carlos Rayo, Martinez and Dave Hanson, Islanders director of player personnel.

At last Friday night's football game at Tiger Stadium the Pacifica Islanders football team and current 2008 Minor League national champion made a contribution to the Terra Nova football program.

The Pacifica Islanders presented a check in the amount of $1,000 to Terra Nova principal Tom Minshew. The check was presented by Brian Martinez, and Tom Piccolotti, president and general manager, respectively, of the Islander organization.

"Brian and I made a pledge when we started this minor league football franchise that we would be involved in the community and support the local high school program," said Piccolotti.

"In keeping with our mission and our promise we are happy to make this presentation,'" he added. "We are confident that as we grow as an organization, so too, will our support to the community."

The Islanders are already building toward the future. In fact, the team is currently advertising for players and coaches. Interested players can contact Dave Hanson at dhan@islanderfootball.org for information abut playing.

The Islanders will open its season next March, playing at Tiger Stadium. For more information about the national champion Islanders visit www.islanderfootball.org.