Islanders Name New Head Coach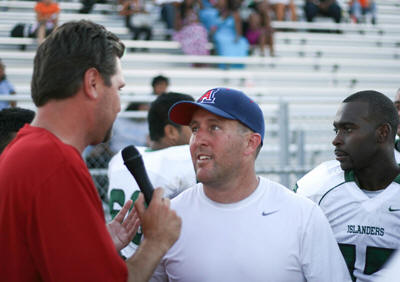 Kenny Milch interviews Jason after the Sunset Bowl win.
Photo by Nancy Porfirio - http://nancyporfiriophotography
Pacifica Ca. - The Pacifica Islanders Minor League Football Franchise is pleased to introduce new Head Coach Jason Piccolotti.
Jason has been the Islander Quarterback and Offensive Coordinator for the past two years, leading the team to an impressive 27-1 record and a National Championship in 2008. His offenses have averaged 37ppg. Statistically he has been one of the top QB's in the Nation, being named Minor League All-American 2 straight years.
"I haven't seen a better field general at this level" says General Manager, Tom Piccolotti "He is the most instinctive competitor I have ever seen, he refuses to lose, and I expect we will see that same fire as a Head Coach." One of the new Head Coaches first orders of business was to name Rod Hunter Assistant Head Coach and Defensive Coordinator. In 2009 Rod served as defensive backs coach and made an immediate impact. He is a Terra Nova Graduate and a former Pacifica Outlaw.

Outgoing Head Coach, Dave Hanson has been with the organization since it's inception in 2003. Dave was instrumental in the organizations success over the years both, as a player and more recently as a coach. This year's squad finished 13-1 and ranked #2 in the final national poll.
Dave made a one year commitment to the organization to be the head coach in the wake of the retirement of Legendary Head Coach, Jack Burgett. He has fulfilled his commitment. He plans to go back to school and finish his degree and someday coach at the high school or college level.
For now the Minor League Football Hall of Famer will focus on spending much needed time with his family. "Dave has played such a vital role in so many big victories in our franchises history" said General Manager, Tom Piccolotti. "He is a big reason we are one of, if not the top organization at this level."

The Islanders will be holding off season work outs in October and November in anticipation of a December 12 charity game in which the Islanders will Play the Bay Bucs, in a toys for tots benefit game. Anyone interested in playing or coaching contact the Staff via the website for details.