Islanders Tame Warriors 52-0
Defense records fourth shut out of season!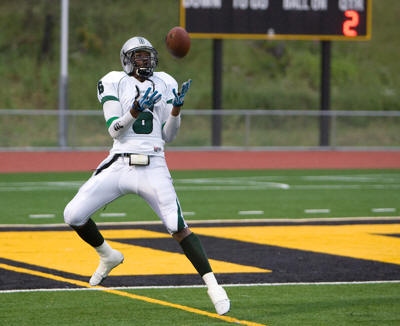 WR Obioma Ngumezi catching one of his two touchdown passes from QB Scott Burke. Photo by Bryan Tan-Pacifica Islanders.
Pacifica, Ca. The Pacifica Islanders improved their record to 8-0 and remained the only undefeated team in the NCFL. The Islanders hosted the California Warriors on Saturday at Terra Nova High School in Pacifica. The Islander defense had another spectacular game, racking up their fourth shutout of the season in just eight games.

The offense was led by quarterback Scott Burke, who had an outstanding game behind center. Burke was 9 out of 15 on passing attempts with 176 yards. Burke and wide reciever Obi "The Amazing One" Ngumezi seemed to be on the same page the whole night. Ngumezi would finish with 94 receiving yards and two touchdowns. Wide receiver Donyell Crain would also connect with his quarterback for a touchdown reception of his own.

The Islander running game proved once again to be a force that could not be stopped; led by running back Jarmar "The Beast" Julien, who had missed the last couple of games due to injury would return this week. He had 9 carries for 52 yards and a touchdown score before sitting out the second half to nurse his injury. But the Islander running game would not stop there, with Jason Harrison and Calvin Edwards ready to step in. Jason Harrison had one touchdown with his 149 yards on just 9 carries giving him an outstanding average per run of 16.5 yards. Calvin Edwards added another 27 yards and found the end zone two times of his own.

Pacifica Islanders went on to win 52-0, and will now travel down to Salinas this Saturday to face the tough Salinas Spartans. Pacifica looks to continue there streak by going 9-0 and look forward to this weeks challenge. The Islanders will come back home on Saturday, May 16 to face the South Bay Stallions. This is their final home game of the regular season- come cheer on the home team and enjoy a performance by Pacifica's own Thrasher's rock band.