Apr. 25, 2009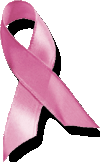 Islanders dedicate Lawmen game to honor Judy Burke & Breast Cancer Awareness
The Pacifica Islanders football family is playing this Saturdays game to honor Judy Burke who is currently battling breast cancer.
The Islanders have used pink tape to wrap this evening in an effort to bring this disease to everyone's attention and to show our solidarity against this disease.
Judy is not alone in her battle, one in every eight women in the United States develops breast cancer. According to the American Cancer Society, a woman in the United States is diagnosed with breast cancer every three minutes. About 178,480 women in the United States will be found to have invasive breast cancer this year alone.
These women are our mothers, daughters and wives. We must stop this disease. The Islanders appreciate your support in this fight. For more info on breast cancer and how you can help please visit www.nationalbreastcancer.org or www.breastcancerawareness.com

Thank you from the Islander Nation!