Islanders defeat Vipers 34-0
Defense gets second shutout of season!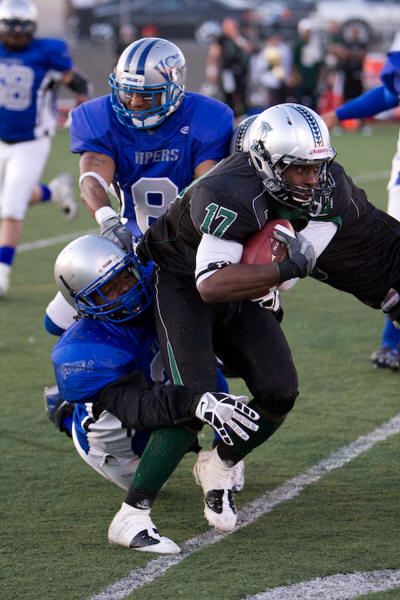 Pacifica Islanders QB Donyell Crain (#17) breaks a tackle, while running the ball out of the Wildcat offense in a 34-0 shutout win against the Oakland Vipers on April 4, 2009. Photo by Bryan Tan
............story, photos and highlights coming soon.
Pacifica Islanders QB Jason Piccolotti back to pass the game winner in overtime. Photo by Rick Curtis
Oakland, Ca. – The NFC division leading Pacifica Islanders traveled to Oakland this week to face the Oakland Vipers. After facing an injury to their quarterback, Orlando Evans last week Jason Piccolotti would start the game. He would turn out to have a nice outing, passing 10 for 14 with 128 yards, connecting with both Dre Kelley and Obi Ngumezi for touchdowns. The Islanders were also missing star running back, Jarmar Julien, but Islander running back Calvin Edwards did a nice job of rushing for 102 yards and a touchdown on 11 carries. Donyell Crain would also get a rushing touchdown of his own. The offensive line did a nice job creating holes for the Islander backs.

The Islanders defense would also once again play stingy football. They would not allow the Oakland Vipers to get on the board, giving the Islanders their second shut out in as many weeks. At the end of it all, the Islanders would walk away with a 34-0 victory.

The Islanders' most anticipated game of the season, against the AFC division leading River City Gators of Sacramento, and arguably the game of the year for the NCFL will take place this Saturday at 5:30pm at Terra Nova High School. Both teams are 4-0 and the only undefeated teams in the NCFL. All profits generated from this game will be donated directly to the Terra Nova sports programs. With the state budget cuts hitting athletic programs hard, this is a great way of helping out Terra Nova athletics and you can't get better entertainment for $10 a person! Bring your friends and family, grab some dinner at our snack bar and come out and support your National Champion Pacifica Islanders and at the same time support your local high school athletics program. This game will be the toughest regular season game of the year, so the Islanders need their fans and the community to come and support them.