May 15, 2010
Rick Rivers
Islanders knock Gators from the unbeaten in NCFL showdown, winning 26-21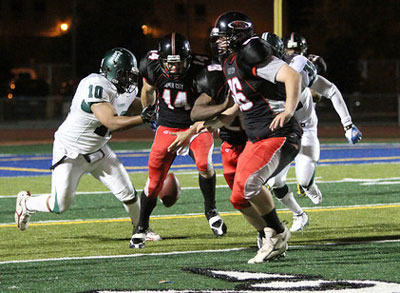 LB Lance Mitchell strips Gator QB Blake Mori to seal the victory late in the 4th quarter. Photo by Nancy Porfirio
Sacramento, Ca. – In a much anticipated battle of two storied franchises. The Pacifica Islanders traveled to West Sacramento to take on the River City Gators. The Gators came in undefeated at 6-0 and were averaging 44 points a game and had this one circled on the calendar. But, the Islanders refused to relent and came away with a hard fought 26-21 victory.

The Gators came out strong with their vaunted spread offense and struck first to make it 7-0. The Islander offense came right back to even it up, but, the extra point try failed and it was 7-6 midway through the second quarter. The Islanders would score again for an intermission score of 13-6.

Both defenses played well with the Islander front 7 wreaking havoc on the River City Quarterback. Early in the 2nd half LB Scott forced a QB fumble and LB Tony Barnes returned it 30yards to put the Islanders up 19-7. They knocked him down 10 times and finished the night with 6 sacks, the final one sealed the game as linebacker Lance Mitchell stripped the ball and the Islanders recovered.

The Islander offense had a lot to say about the outcome of this one as well. QB Jason Piccolotti in his second game since turning over the Head Coaching duties to his brother Tom, was an efficient 18-26 for 167yds 3 touchdowns. He connected with 8 different receivers. On the scoring end of the throws were Greg Walton, Matese Tangafaou and Cecil Elekewachi. The Islander running game was steady as well, controlling the trenches and wearing down the Gator Defense. RB Jason Harrison pounded out 150yds on 26 carries.

Next week the Islanders, now 6-1, will be home at Terra Nova to take on the Central Coast Barnstormers in a rematch of last years Conference Championship where the Barnstormers ended the Islanders season 37-31 in overtime.