Apr 3, 2010
Rick Rivers
Islanders Pound Vikings 42-6 in week 2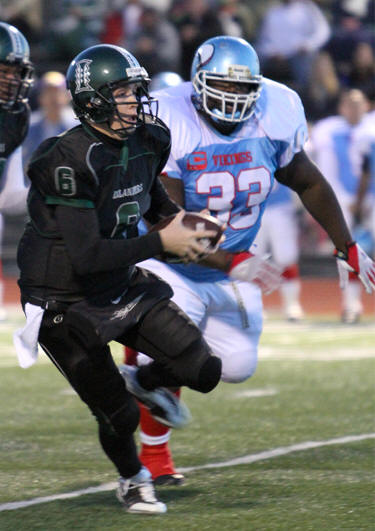 QB Jimmy Collins scrambles for a first down in the Islanders
42-6 victory over the Vikings. Photo by Nancy Porfirio
Watsonville, Ca. The Islanders traveled down the coast this week to Watsonville to take on the Monterey Bay Vikings at Watsonville High School. The Vikings who are new to the NCFL, found out early that the Islanders were in town for business.
Monterey received the ball to start the game and had just crossed into Islander territory when Pacifica's defense showed them how the evening would go. They would be stopped in their tracks and have to punt. The Islanders first possession resulted in a Jason Harrison touchdown. Not to disappoint after last week's player of the week performance, Harrison again consistently broke tackles and amassed 201 yards rushing on 10 carries and 2 touchdowns, thus making him this year's first back to back Islander of the week recipient.
One of the biggest stories of the game was the Islanders defense up front. Pacifica's defense AKA "The Blackout D" was in the Vikings QB Isaac Dawid's face all evening, keeping him frustrated most of the game. The Islanders ended the night with a team record 12 sacks. Islander's defensive end Anthony Edwards led the charge with 4.5 tackles and another 4.5 sacks earning him player of the game honors for week 2. The Hargraves brothers, Jermaine and Ronald both intercepted Dawid on Saturday with Jermaine returning his gift to the endzone for a 43 yard touchdown.
Islanders QB Jimmy Collins threw 2 touchdowns in the win, one for 45 yards to Cecil Elekewachi and another to Calvin Edwards for 10 yards. The final score was 42-6 with 5 different Islanders scoring touchdowns (Harrison – 2, Lindsey, Elekewachi, Edwards and Hargraves) . Donyell Crain also caught a 2 point conversion. The Vikings only score was a late 4th quarter touchdown in which the extra point was missed.
The Islander's players and staff were excited about the dominating win. Head coach Jason Piccolotti said "Although we will celebrate this win tonight, it is still early in the season and we need to stay focused on our next opponent, the Stockton Trojans. They have always been a playoff team and we will prepare for them like we do all games, just like it were a championship."
Come on out to Terra Nova High School next Saturday Apr. 10th at 6:00pm to see the Islanders take on the Stockton Trojans in what should be a very exciting game. Tickets can be purchased in advance from any Terra Nova football player or Pacifica Girls Softball player. $5 from those tickets goes directly to the youth organizations. Tickets are also available at the gate