Islanders pull off an exciting win in the NCFL's first overtime game of the year
Kelley's lone touchdown gives Rattlers first defeat of season
Rob Goodwin
Mar. 28, 2009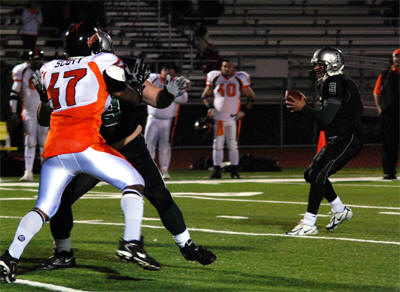 Pacifica Islanders QB Jason Piccolotti back to pass the game winner in overtime. Photo by Rick Curtis
Pacifica, Ca. – The Pacifica Islanders hosted the North Bay Rattlers at Terra Nova High School this past Saturday. The game was recorded and will air on TV this upcoming week. The game turned out to be an exciting one. Both defenses proved to be the dominant aspect of the game. With the score being 0 to 0 with less than 1 minute to go in the 4th quarter, Jermaine Hargraves of the Islanders would intercept a Rattler's pass deep in Rattler's territory. This would set up a game winning field goal attempt by the Islanders. But the Islanders were not able to capitalize, sending the game into overtime at 0-0. A very surprising score, that no one had predicted.

The NCFL plays overtime by NCAA rules, meaning each team is guaranteed a possession. The Islanders would have the ball first, by rule starting at the Rattlers 25 yard line. On the second play from scrimmage, Jason Piccolotti, who entered the game late in the 4th quarter, due to an injured Orlando Evans, would connect with wide-out Andre Kelley for a 25 yard touch down pass in the corner of the end zone. This giving the Islanders the lead 7 to nothing. The Rattlers now would have to match the Islanders 7 points to keep the overtime going another round. Scott "the Enforcer" Burke had different plans when he came on a blitz from the outside, blind siding the Rattler's quarterback Vernon Pope, causing a fumble. Islander Cisco "Big Body" Lutu would recover the fumble, ending the game in a 7-0 Islander victory.

Be sure to catch the Islanders vs. Rattlers game on TV! The game will replay Tuesday, March 31st 9:30pm and Wednesday, April 1st 9:30am on Peninsula TV (14 cities in San Mateo county) Comcast channel 27, Astound channel 26, AT&T U-Verse channel 99. It will also play on MCTV in Millbrae, streaming 24/7 at www.mctv.tv Millbrae TV schedule this week is Tuesday March 31 at 7pm, and Friday April 3 at 5pm. More dates coming soon!

This Saturday, the undefeated Islanders travel to Oakland Tech High School to take on the Oakland Vipers at 5:00pm.