Islanders Start Season with a Road Win
Comcast sports network to broadcast first home game

Rob Goodwin
Mar. 14, 2009
QB Orlando Evans (#15) looks to avoid a tackler during a scramble. He led the Islanders to a 36-14 victory over the Bay Area Buccaneers in their season opener on March 14, 2009. (Photo by Bryan Tan)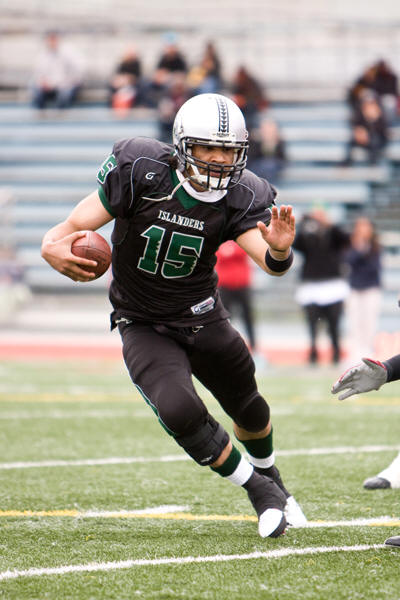 San Francisco, Ca. – The Islanders would prove to be too much of a challenge for the first year Bay Area Buccaneers as they were defeated 36-14. The Bay Bucs would strike first off an Islander's misque on special teams that gave them excellent field position, when Bay Bucs running back Corky Lindsey, on the first snap of the Buc's offense, scored on a long run. But the experienced Islanders would not let down, coming back with a long drive and striking back with their star running back, Jarmar Julien who would score from 5 yards out, plowing over a Bay Bucs' defender and putting the Islanders within 1 point.
Julien would prove to have an impressive outing with 17 carries for 119 yards and two touchdowns. The Islanders also debuted their new quarterback, Orlando Evans, who had a notable showing passing for 225 yards and 2 touchdowns. One outstanding play came via a 69 yard screen pass from Evans to Julian for a touchdown. Evans would also connect with Nick Iano for a 47 yard touchdown scrambling passing play.
Calvin Edwards sealed the Islander's victory when he ran for a 45 yard touchdown, including a vicious stiff arm to a defender on his way into the end zone. Overall, the Islanders rushed for 202 yards which gave them 427 yards of total offense. Although the Islanders' offense played an exceptional game, the defense once again showed their resiliency and skill by keeping the Bucs to minimal yards, never letting the offense get into any type of rhythm.
This Saturday, March 21 at 5:30pm at Terra Nova High School, the Islanders play their first home game versus the Central Coast Barnstormers. The game will be recorded and televised at a later date on Comcast cable and the team is really hoping to get a large turnout. "The more fans that show up the better it will be, not only for the TV viewing audience but also for the Terra Nova sports program". The Islanders have a history of supporting the local community and the more funds rose throughout the year means the larger our donations will be at end of the season" stated President Brian Martinez.

As general manager, Tom Piccolotti puts it, ""This is the most talented team we've ever had, and the more the community gets behind us the more we can help. The Islanders always prove to put on a great show and this should be great game".