Islanders suffer first defeat losing to the Barnstormers in overtime 37-31 in the NCFL NFC conference championship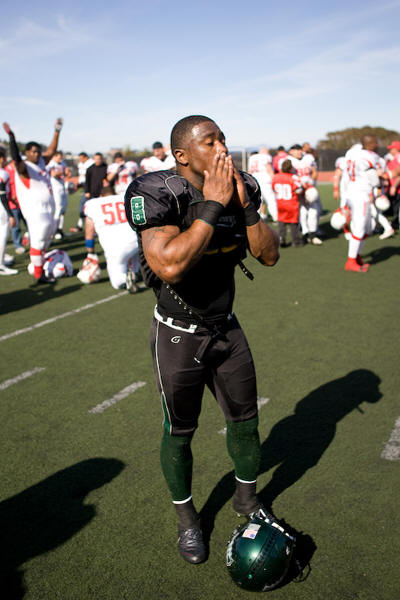 SAN FRANCISCO - JUNE 6: Paki Gordon stands on the field in disbelief, following a shocking 37-31 season-ending overtime playoff defeat against the Central Coast Barnstormers on June 6, 2009. Photo by Bryan Tan/PACIFICA ISLANDERS
San Francisco, Ca. The Pacifica Islanders suffered their first loss of the season Saturday against the Central Coast Barnstormers.

Unfortunately, their first loss came in the second round of the playoffs. The loss eliminated the Islanders from the Northern California Football League title.

The game turned out to be an offensive game, with the Islanders falling short in overtime 37-31. The game was played last Saturday at City College of San Francisco.

With the win, the Barnstormers win the National Football Conference and will play for the NCFL championship against North Bay Rattlers Saturday at Vallejo.

The Barnstormers came ready to play and executed nearly perfectly.

The Barnstormers had only one turnover compared to the Islanders' three, and that turnover came after a Barnstormer defender intercepted an Islander pass but then fumbled while returning the interception.

Early on in the game the Islanders missed a field goal and an extra point attempt which came back to haunt them later in the game.

The Barnstormers on the other hand executed on all field goals, extra points and two point conversion attempts.

The Barnstormers' passing game was their main game plan and attack, led by quarterback Bryan Smith who guided the Barnstormers to victory.

"The Islanders thank their sponsors and fans for all their support this season," said Brian Martinez, President, Pacifica Islanders. "Even though this loss is very hard the Islanders will work to get better and be back for the 2010 season and onto next year's challenge."