Islanders win California Bowl:
Piccolotti-Julien duo too much for Cobras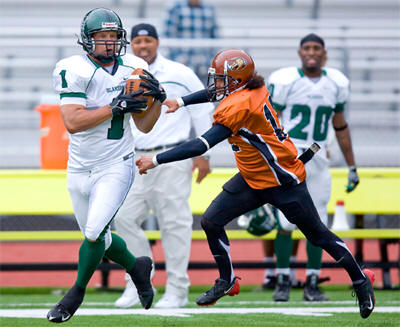 Islander WR Nick Iano making one of his many receptions in the California Bowl, Photo by Ernie Abrea, www.printroom.com/pro/gamedayshots
The Pacifica Islanders claimed victory of the California Bowl with a 26-0 win against the very tough North County Cobras from San Diego last Saturday in a game played at Terra Nova.

The Islanders' defense made it extremely hard for the Cobras to move the ball; they had great pressure all night forcing the quarterback out of the pocket and making some throws that he wishes he didn't.

Islander defensive backs were in the right places to make a play on the ball, and on offense they were able to gain a rhythm and move the ball efficiently.

Jarmar Julien continued his hard running, making unbelievable runs, and just when it looked like he was going down he dragged defenders for several more yards.

Julien finished with a super performance with 115 rushing yards. Jason Piccolotti once again had an amazing game hooking up with his familiar wide receivers. He hit Rob Piccolotti for one touchdown.

On one amazing play veteran wide receiver Andre Kelley had great awareness and didn't give up when a pass was deflected. The ball appeared to be an incomplete pass; however, he snatched the ball out of the air and ran for an 80-yard touchdown.
Piccolotti connected 122 of his 254 yards with wide receiver Nick Iano on four big pass plays.

The Islanders now travel to Las Vegas on Saturday, where they will take on the undefeated Portland Monarchs in the Sunset Bowl. The Monarchs are a top team in the country and the game looks to be a great fun filled event.