Apr 10, 2010
Mike Marnin
Islanders win defensive struggle to remain unbeaten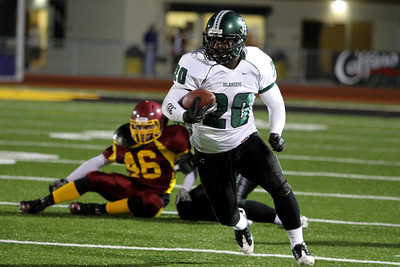 Islanders RB Corky Lindsey rushed for 109 yards & a TD in the win.
Photo by Nancy Porfirio
Pacifica, Ca. - The Pacifica Islanders defeated a well coached and opportunistic Stockton team Saturday night to improve their 2010 NCFL record to 3-0. Pacifica held on to beat the Trojans by one touchdown, 17-10 in the low scoring contest.

The real story of the game was Pacifica's defense. The Islanders front seven completely shutdown the run for the Trojans leaving them with few options especially with veteran defensive backs Jermaine Hargraves, Surrell Davis, Thad Vinson and Paki Gordon suppressing the Trojan passing attack.

Defensive linemen Anthony Edwards, Sam Iosia and Mike Togafau each turned in another great performance pressuring Trojan quarterback Chad Metelak throughout the game while the Islander linebacker core shut down the middle.

After last week's awesome performance, the Islanders offense seemed to struggle most of the evening. Costly fumbles and penalties killed a number of drives. Both teams struggled to score and the first quarter ended in a 0-0 tie and was 7-0 Islanders at the half. The 3rd quarter produced one Islander field goal and both teams scored touchdowns in the 4th quarter.

Although not at their best the offense was able to establish a good ground game. The leagues leading rushers both broke the century mark on the ground. Corky Lindsey rushed for 109 yards and 1 TD, earning offensive player of the week honors while teammate Jason Harrison ran for 101 yards and 1 TD.

Jihad Mahasin also put his stamp on the game with a 40 yard kick return netting him special team's player of the week.

The Islanders are on the road next week in San Francisco, to take on the Golden State Giants. Game time is 1 pm at Phillip Burton High School.