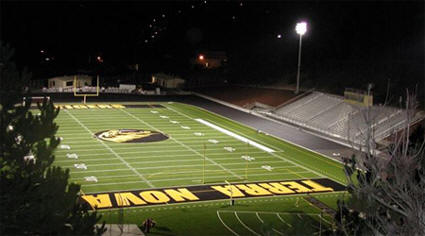 Lights Shine on an Historic Night at Terra Nova

By Horace Hinshaw Pacifica Tribune Sports Editor
Sep. 4, 2008

Another milestone in Pacifica's sports history will me made Friday night when the Terra Nova Tigers open the 2008 football season playing in a state-of-the art facility.

Thanks to a $135 million initiative bond passed by the local community two years ago the football field and track was completely restructured over the summer.

The public is invited to be a part of this historical game. A ribbon-cutting ceremony will be held at 6:40 p.m. Terra Nova High School officials will showcase the newly installed synthetic football field and track. The new bleachers will accommodate 1,800 fans.

A Terra Nova-hosted reception, coordinated by the school's Associated Student Body class, will be held at 6 p.m. Guests include former Terra Nova Booster Club members and Jefferson Union High School officials. The varsity Tigers will host Burlingame in a 7 p.m. kickoff. Earlier in the day, the Tigers' sophomore team will entertain Burlingame in a 4 p.m. affair. The public is also invited to attend that game.

Admission to the night game will be $6 for adults and $5 for students and senior citizens. A Terra Nova Booster pass is also available for purchasing. Price of a booster pass begins at $50. Parking in the student parking lot is available for $3. The Boosters' snack shack will provide a wide variety of food and drinks.

The varsity Tigers will play five more home games at Tiger Stadium. Each game is tied to a special event: Sept. 12 Olympic Club Night; Sept. 25 Alumni Night; Oct. 10 Homecoming; Oct. 24 Band Night and Nov. 17 Senior Night.