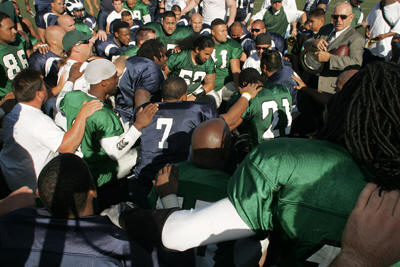 Players from both teams in the post game prayer.
M.L.F.A. National Championship Game

Rob Goodwin, Islanders Staff Writer
July. 26, 2008

SAN FRANCISCO -- With San Francisco City College as the backdrop, two undefeated teams, the Pacifica Islanders and the El Paso Brawlers embarked on what can arguably be considered the most important game of the year thus far, the Minor League Football Alliance - Gamewear National Championship.
The Brawlers were looking to seal the deal versus the Central Valley Football League champion Islanders, but would find themselves plagued with injuries early on in the first quarter.
The Brawlers would lose their starting quarterback, Darrack Davis on the third snap of the game, followed by their runningback, Jeff Turnbull.
The Brawler's defense was unable to stop the punishing running machine that is Jarmar Julien. Julien would prove to have an amazing game with 12 carries for 140 yards and 3 touchdowns, including two impressive touchdown runs for 45 yards and 35 yards.
The Islanders ruthless offensive line continued their dominant run blocking into the fourth quarter, creating huge holes for Juwon Cherry, who would perform an amazing flip into the endzone above the heads of the shocked Brawlers defense.
The once again dominant Islanders defense would make it extremely difficult for the Brawlers to score, especially since the Islanders defense scored two touchdowns of their own, both coming off of fantastic pitch plays due to turnovers; including one late in the second quarter, when Scott Burke intercepted a Brawlers screen pass and while being tackled, tossed it to Eddie Tatola, who ran it in from 40 yards out to complete the touchdown score.
Eddie Tatola stated that he had been running behind Burke and saw an opening and yelled at him to toss it and next thing he knew he had it and he was in the end zone.
The Islanders defense showed their dominance on fourth down conversions, allowing the Brawlers to only convert one out of seven fourth down attempts. Middle linebacker Eddie Tatola credits the defensive line for their success stating that they play very unselfishly and make it easy for the linebackers to make the plays.
With the California state flag waving proudly in the cool San Francisco breeze, the Islanders sent the Brawlers back to El Paso stinging after a devastating 52-6 loss.