Pacifca Sends Gators Back to the Swamps
Islanders defeat River City 29-19, remain undefeated!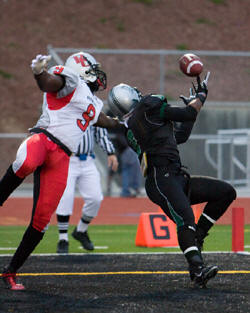 Islanders DB James Barnes (#9) played an instrumental role in a 29-19 victory over the River City Gators, here making a touchdown saving interception in the endzone.
Photo by Bryan Tan
Pacifica, Ca.
The Pacifica Islanders defeated the River City Gators on Saturday to remain the only undefeated team in the NCFL.

Islanders QB Scott Burke would get his first start of the season, with a big task ahead of him as the River City Gators defense lined up opposite of him. He would end up having a very nice outing, completing 9 of 21 passes for 132 yards and connecting with wide receiver Nick Iano for a touchdown score. Burke would also run one in after having a beautiful fake to the Islanders running back.

Islanders would lose their star runningback Jarmar Julien to an injury just after one carry. But the Islanders would not let that stop their running game. With Jason Harrison running 14 times for 105 yards and Calvin Edwards for another 41 yards on 9 carries.. The offensive line played superb against such a great defense, both creating holes for the running backs and time for Burke in the pocket.

The dominant factor in the game would come from the Islanders defense; they would step up to the challenge time and time again, even when entering the field deep in their own territory. The defensive line gave huge pressure all night long on the Gators passing game, never letting the qb sustain a rhythm. One of the highlights and a huge momentum burst for the Islanders came at the end of the 1st half. With less than a minute to go corner back Packi Gordon would intercept a pass when the Gators were pushing to get points on the board, and take it all the way to the endzone giving the Islanders a 23 to 13 lead, but it would not stop there. With 47 seconds left in the half the Gators would once again try to move down field but the Islanders defense had other plans. They held the Gators and forced them to punt. Packi Gordon was ready to make another huge play, returning the punt all the way to the Gators redzone, setting up kicker Colby Cason with one
second left in the half to successfully connect with one of three of his field goals of the night.

The Islanders in the second half would finish what they started and go on to win 29 to 19 and move on to a 5-0 record. They will now travel up to the North Bay on Saturday to face the Marin Bulldogs at 2pm at Tamalpais High School.