May 22, 2010
Mike Marnin
Pacifica too much for Barnstormers, Islanders win 34-6 at home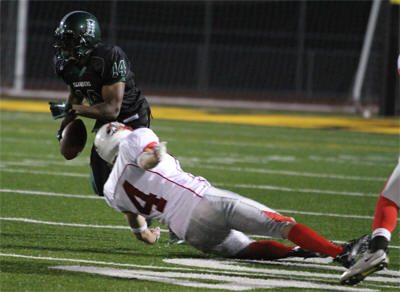 Islander WR Chris King shakes CCB defender Chad Kakebeen during Saturday's victory. Photo by Nancy Porfirio
Pacifica, Ca. – The last time the Pacifica Islanders and Central Coast Barnstormers met, the Barnstormers knocked the Islanders out of the Northern California Football League playoffs. That was last year when the Islanders loss in overtime 37-31 in the conference championship game.

It was a different story last Saturday night in the re-match between these two rival franchises. The Islanders played solid defense, executed well on offense and made enough big plays to emerge with a 34-6 victory in the game played at Terra Nova.

John Manville and Jason Piccolotti split time at quarterback and both were proficient at the task. Manville totaled 160 yards and two passing touchdowns on 10 or 12 attempts; he also ran for one touchdown. Piccolotti connected on four of 11 passes for 41 yards; he had one carry for 17 yards. Receiving standouts were Greg Walton going four for 51 yards with a touchdown, and Angelo Winston catching three passes for 57 yards and a score.

The Islanders played a big game defensively. In the first half Tony Barnes and Lance Mitchell continually unloaded on Barnstormer running backs while Surrell Davis was all over the field making key plays. Davis finished the night with eight tackles, two for loss, and one fumble recovery. Barnes was credited with five tackles and one sack while Mitchell was a constant disruption to the Barnstormer passing attack with four pass deflections, netting him defensive player of the game.

Having sustained some recent injuries on offensive line the Islanders had to fill some holes and they did quite a good job. Sam Iosia led the charge by paving the way for last year's league most valuable player Corky Lindsey who rushed for 115 yards on 16 carries and scored one touchdown. Piccolotti, Manville and running back Jeremiah Mims all chipped in on the rushing game, and the Islanders gained 173 yards on the ground averaging 6.4 per carry.

Going into halftime the Islanders led 14-0. The Barnstormers pulled close in the second half and scored on a passing play making the score 14 - 6. The Islander defense again rose to the occasion getting big plays from Mike Togafau, Scott Burke, and Thad Vinson. Tangofau had two fumble recoveries and one sack, Scott Burke added two sacks and Vinson had two interceptions.

Not to be outdone by the defense the Islanders offense took over in the second half with Manville showing his talent and making the best out of his opportunity of being at the helm.
Paki Gordon was special teams player of the week with a punt return giving the Islanders excellent field position.

The Islanders take this weekend off to but return to Terra Nova High School on June 5 against the Nor-cal Lawmen. Game time is 6 p.m.