May 8, 2010
Rick Rivers
Piccolotti provides needed offensive spark, Islanders too much for expansion Rhinos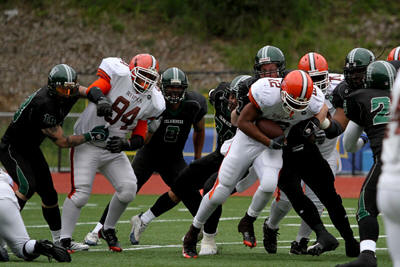 Photo by Nancy Porfirio
Pacifica, Ca. – 2010 has been a bit of a frustrating year for the Islanders on the offensive side of the ball. Although they have won 4 out of 5 of their contests, their offense has had some struggles early on. After only scoring 17 points against the Trojans at their last home game and a mere 6 points against the Rattlers last week they felt it was time for a change.

That change was activating their former QB and current head coach Jason Piccolotti as a player. Jason a former league MVP and multiple time "All-American" can still play the game at a very high level and the staff felt this would be the best thing they could do for the struggling offense. After scoring touchdowns on 8 of their 10 possessions and winning the game 55-0 it appears right now that they were correct.

The offense scored early and often with many different players getting into the action. Jason threw 3 touchdown passes to 3 separate receivers, Angelo Winston, Greg Walton and Chris King all pulled in 6 points with Piccolotti kicking all the extra points. Not to be left out Islander running backs Corky Lindsey & Calvin Edwards also got into the mix with touchdowns of their own. Corky rushed 7 times for 41 yards and 3 touchdowns while Calvin ran the ball 7 times for 52 yards and 1 TD.

On the defensive side the team has done what has come to be expected of them, they shut the Rhinos offense down completely. Team leaders were Tony Barnes (3 tackles, 2 for losses, 2 sacks and 1 forced fumble), Scott Burke (4 tackles, 2 for loss and 1 forced fumble), Randy Sims (4 tackles, 1 fumble recovery), Mike Togafau (4 tackles, 2 for loss & 1 fumble recovery). Defensive backs Thad Vinson and Dennis Taylor both made an interception. Thad also blocked a Rhino punt into the end zone and then pounced on it for a touchdown of his own.

Next week the Islanders travel to Sacramento to face one of the NCFL's finest, The River City Gators. The Gators are undefeated at 6-0 and currently lead the league in scoring, averaging 49.4 points per game. They also are the league leaders in total yards and passing yards. Gators quarterback Blake Mori has scorched his opponents for 1218 yards and 17 touchdowns. The game will be played at the New River City High School at 6:00 pm May 15th.