Islanders Capture Sunset Bowl title in OT 41-35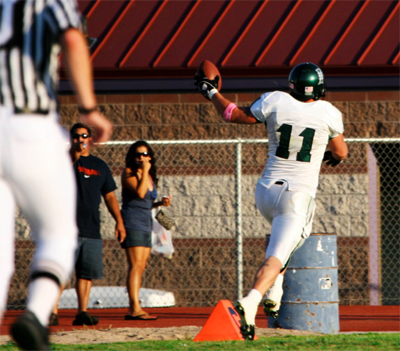 Monarch fans look in disbelief as LB Scott Burke scores game winning TD
Photo by Nancy Porfirio - http://nancyporfiriophotography
Las Vegas, NV - The Pacifica Islanders have been in some epic battles this year and the Sunset Bowl proved to be one of the best this season.

The Sunset Bowl, featured the #3 ranked Pacifica Islanders and the #4 Portland Monarchs. The Islanders brought their 58-1 record over the last 4 years to match-up with the 12-0 Monarchs, who average 45 points per game. These powerhouses needed overtime to decide their classic battle.

The game's first TD came quickly, as Monarch DB Jared Roberts intercepted an Islander QB Jason Piccolotti pass and returned it 40 yards for the touchdown. The Islanders struggled early, but got things going behind RB Corky Lindsey. Lindsey, who had over 200 yards rushing on the day, sparked Pacifica's offense the entire day.

Lindsey scored from 17 yards out to tie the game at 7, and his success opened up the passing game. Piccolotti hit WR Donyell Crain over and over, and WR Ngumezi Obioma began to stretch the defense down field. For Portland, Oregon Football League MVP QB Russell Schneider hit WR Nick Bodeman consistently to keep the Monarchs in the game.

Tied at 21 late in the 3rd quarter, the Islanders score two consecutive TD's to go up 35-21. Their scoring run was highlighted by an outstanding 25-yard TD dash by RB Calvin Edwards. Edwards took the pitch off-tackle to the right, got to the corner, turned it up field and outran every Monarch DB for the touchdown.

The Islander lead held firm until 5 minutes in the 4th quarter, when Piccolotti threw an ill-advised interception instead of running time off the clock. Schneider, Bodeman, RB Tony Pierson and WR JJ Johnson took advantage of this mistake, and eventually scored two TD's of their own to tie the game at 35. The explosive Portland offense scored quickly, with their last TD coming with under a minute in the game. Schneider connected with Johnson for a leaping TD grab, send the game to OT.

In overtime, the Sunset Bowl ended quickly. On 2nd down, Schneider overthrew his receiver and the ball ended up in the hands of NCFL Defensive Player of the Year LB Scott Burke. Burke diagnosed the play immediately, and returned the INT 91 yards for the game-winning touchdown. Burke's huge play not only won the game, but capped off his incredible individual season.