The Islanders management is pleased to announce two new major coaching staff appointments
Rick Rivers-special correspondent
Jan. 8, 2009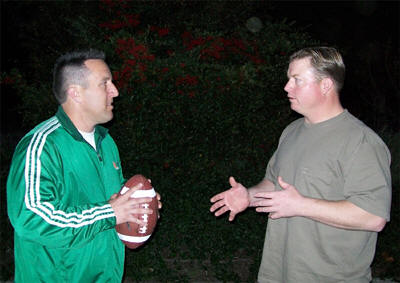 Islander's new coaches planning strategy at practice, left to right Jason Piccolotti and Dave Hanson
Pacifica, Calif. – The 2009 Pacifica Islanders coaching staff will be led by new Head Coach Dave Hanson and Assistant Head Coach Jason Piccolotti. These two men have an incredible football history dating back to their high school and college careers.
Both Dave and Jason have storied careers at this level of ball. These two legends have been the backbone of this organization since it's inception in 2003. Dave quarterbacked the team to it's first championship while Jason led them to their next three National titles.
The team was previously coached by longtime head coach Jack Burgett. Jack recently retired from football due to health concerns and to spend more time with his family. "Although we will miss Jack and his knowledge immensely, the Islanders staff feels that these two gentlemen have what it takes to continue the championship tradition the team has become accustomed to." said Islander president Brian Martinez.
Mr. Hanson boast a 209-9 win/loss record in minor league football between his playing and coaching experience. He has won 16 different championships throughout his career in minor league ball, with 3 coming in 2008. Dave shattered the rushing and touchdown records at his alma mater South San Francisco High. Dave also led the state and set the California record for most touchdowns in a season with 38 in his senior year. His jersey was retired and still hangs from the ceiling in the gym at So. City.
Dave then continued his career by breaking just about every record in the College of San Mateo's history, followed by playing for Sonoma State University. There he was able to run behind legendary NFL lineman and ex Dallas Cowboy and San Francisco 49er Larry Allen.
"I am excited about the upcoming season and intend to keep the wins rolling in and the tradition alive" stated Dave. "I appreciate the opportunity the team has provided me and I will not let them down" concluded Mr. Hanson
Jason Piccolotti who is moving from the team's starting quarterback into his new role as the assistant Head Coach is also extremely motivated by the possibilities that his new position will provide. "I am looking forward to the transition and feel it will be an easy one, especially given the fact that I have played with many of these men at both the college and minor league level." "Developing players and helping them get to the next level is what I plan to do." said Jason, fondly known as J-Pic to his team mates.
Jason's football career started in Pacifica playing youth ball with the Pacifica Dolphins and then moving on to Oceana High School. In 1994 while playing quarterback for Community College of San Francisco Jason won a National Championship and still remains in the record books for single season passing and career passing.
Jason then received a scholarship and attended the University of South Dakota. After college Jason has been involved with minor league football and has played or coached for several northern California teams including the Pacifica Outlaws, Daly City Renegades and the Nor-Cal Lawmen besides his experience with the Islanders.
General manager Tom Piccolotti believes this will be a very successful season at Terra Nova and is confident these two will bring home another title.
"The Islanders front office knows that the players have tremendous respect for both of these gentlemen and will respond positively toward the moves." stated G.M. Piccolotti.