Islanders look impressive in second pre-season outing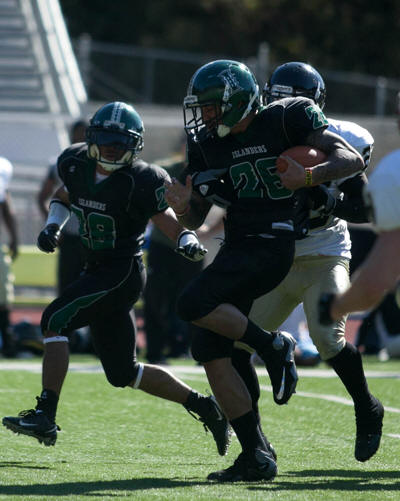 Islanders RB Marley McNealey pounds his way for a first
down led by WR Jihad Mahasin against the Stallions
Mar. 3, 2012 - Pacifica, Ca, The Pacifica Islanders hosted the South Bay Stallions in a pre season scrimmage last Saturday afternoon at Terra Nova HS. The Islanders looked dominant from the beginning scoring on their first possession. Pacifica was able to connect 5 times for touchdowns and stop South Bay from scoring any. They controlled the line of scrimmage on both sides of the ball most of the day.
Offensively the Islanders were led by WR Shane Blue, a former CCSF & West Georgia University standout, catching 2 touchdowns and making it look easy against the Stallions secondary. With the Islanders starting running back, Jason Harrison still nurturing an injured knee, a few Islander players saw the opportunity to shine at the tailback position. Both second year Islander Marley McNealey and newcomer and former Buffalo NY lacrosse and football standout Michael Blocho looked good running the ball against the Stallions. Blocho was able to break a 30 yard rush into the red-zone and then score a TD on the very next play, while Marley continued his pounding up the middle. Michael Gates and Walter Dawson also caught touchdowns as quarterback Myles Gates completed 4 TD's on the day.
On the defensive side of the ball the Islanders front 7 again looked outstanding not allowing the Stallions to move the ball and consistently putting heavy pressure on their quarterback. Standouts were Sione Umufuke, Erik Howard, Rashad Swanson and Yousef Naconzi. Thad Vinson, Paki Gordon & Jason Cory locked the Stallions receivers up throughout the matchup.
Next Saturday the Islanders play their first real game of the season against the River City Gators. Although this is a non-league game and does not count for the Islanders GDFL record they are definitely taking it serious as all games played at this level after December count for their overall national standings. The Islanders are familiar with River City having faced them 4 times in the past with the last matchup being for last year's Northern California Football League's championship. The Islanders prevailed 34-28 in a hard fought battle to win the title.
Kickoff is scheduled for 2pm at Terra Nova HS. Admission is only $10 for adults, $5 for kids & seniors and kids 5 & under are always free. Come out and enjoy some great hard hitting football, be entertained by the Islanders cheer team the Island Glamours, grab a bite to eat and enjoy their professional PA announcer & DJ.